Redesigning Our Future: National Environmental Summit for High School Students
July 9-13, 2019
Four leading organizations - the Center for the Environment at Catawba College, Rocky Mountain Institute, Environmental Working Group, and Yellowstone Forever - are partnering to provide an opportunity for young environmental leaders to learn, create, share, interact, grow, connect, and build relationships. You know you have unique talents and particular interests; at Redesigning Our Future, you will learn the skills needed to use your passions to create a sustainable world. Small group workshops will focus on creating a toolbox of leadership skills that can be used now and in your future.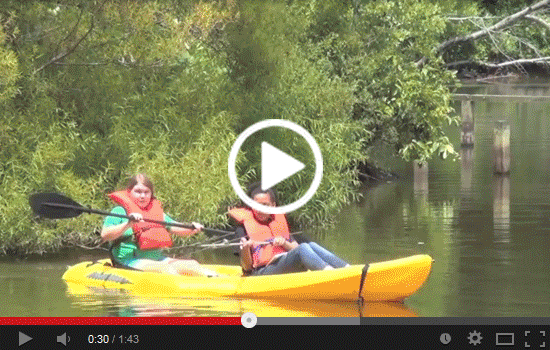 Who can attend?
The summit is open to students who will be 14-17 years of age by the time of the summit.
Summit tuition is $490. Apply by May 1 for a $90 discount. Tuition covers most of the cost of meals and lodging for the 5-day/4-night Summit. The generous contributions of our sponsors help us to meet the remaining costs of staffing, programming, speakers, etc. A shuttle to and from Charlotte-Douglas Airport and the Salisbury Train Depot will be provided. All other transportation costs are the responsibility of the student.
Where is it?

The summit will be held on the Catawba College campus. Catawba College is in Salisbury, NC, just north of metropolitan Charlotte. Participants will be housed in Abernethy Village, a complex of LEED-certified residence halls. These are not co-ed dorms. Programming will occur on Catawba College's 189-acre Fred Stanback, Jr. Ecological Preserve and in the labs and classrooms of the Center for the Environment's green facility.
Student comments from past summits

"The summit was a great way to meet similar minded people with a shared passion. It gave me the confidence I needed to start environmental initiatives."
"I feel like I've grown a lifetime away from where I started. I was given the push to truly take a step in the direction of helping to save this earth. I was given the tools to be an awesome leader and bring us to a greener world."
"The summit helped me incorporate all the things I love with my love of the earth. It helped me understand the processes that one must undergo in order to help others understand and work with an ecological choice."
Read articles about Redesigning Our Future
Want to Sponsor a Student This Year?
In order to keep the National Environmental Summit for High School Students affordable for all, we must raise funds to offset the cost. Please consider partnering with us in offering this transformative experience for high school students by sponsoring a student for the event. Any amount is very much appreciated. You may make your check out to the Center for the Environment at Catawba College with National Environmental Summit in the memo line and send it to the Center for the Environment, Catawba College, 2300 West Innes Street, Salisbury, NC 28144. For additional information, please contact the Center for the Environment at 704-637-4727.
Do You Know High School Students with an Interest in the Environment?
If you know anyone between the ages of 14 and 17 who has a keen interest in environmental stewardship, please encourage them to apply for the National Environmental Summit.